Το Τμήμα Οικονομικής Επιστήμης του ΟΠΑ υποστηρίζει την οργάνωση του 12ου θερινού σχολείου στη σειρά Conference on Research on Economic Theory and Econometrics (14-18 Ιουλίου 2013)
12th Conference on Research on Economic Theory & Econometrics
Νάξος
14-18 Ιουλίου 2013
Το Τμήμα Οικονομικής Επιστήμης του Οικονομικού Πανεπιστημίου Αθηνών υποστηρίζει την οργάνωση του 12th Conference on Research on Economic Theory and Econometrics (12ου Συνεδρίου για την Έρευνα στην Οικονομική Θεωρία και Οικονομετρία), που θα πραγματοποιηθεί στη Νάξο, στον συνεδριακό χώρο της Σχολής Ουρσουλινών στο κάστρο της Νάξου, στις 14 έως 18 Ιουλίου 2013, με τη φιλοξενία του Δήμου της Νάξου.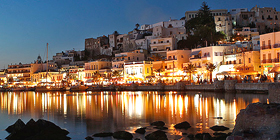 Σε αυτό το καλοκαιρινό σχολείο έχουν προσκληθεί και θα συμμετάσχουν 200 προχωρημένοι υποψήφιοι διδάκτορες και καθηγητές από την Ελλάδα και το εξωτερικό, με εξειδίκευση στον χώρο της Οικονομικής Θεωρίας και της Οικονομετρίας.
Στη φετινή συνάντηση συμμετέχουν οι C. Pissarides (University of Cyprus και LSE, βραβείο Nobel 2010), S. Anderson (Virginia), F. Collard (Bern), I. Correia (Catolica-Lisbon), Aureo De Paula (UCL), J. Geanakoplos (Yale), P. Oreopoulos (Toronto), S. Rebelo (Northwestern), P. Rey (Toulouse), M. Roberts (Penn State), J.M. Robin (Sciences Po and UCL), O. Scaillet (Genéva), E. Tamer (Northwestern), P. Teles (Banco de Portugal), J. Thanassoulis (Oxford), O. Toivanen (Leuven), J. Valimaki (Aalto), T. Valletti (Imperial College London), ανάμεσα σε άλλους διακεκριμένους προσκεκλημένους.
Το πρόγραμμα περιλαμβάνει, επίσης, σειρά ομιλιών από προχωρημένους υποψήφιους διδάκτορες και νέους ερευνητές.
Περισσότερες πληροφορίες σχετικά με το πρόγραμμα και τη διοργάνωση υπάρχουν στην ιστοσελίδα www.aueb.gr/conferences/Crete2013/.