Students create an anti-cartel campaign: a collaboration between the Competition Committee and the Athens University of Economics and Business
Students create an anti-cartel campaign: a collaboration between the Competition Committee and the Athens University of Economics and Business
On Wednesday 13/4/2022, during a special event held at the Athens University of Economics & Business, the best nominated student projects received awards for their design of a campaign to highlight the work of the Competition Committee. The event was attended and addressed by the students, the Chairman of the Competition Committee, Mr. Ioannis Lianos and the Vice Rector for Economic Planning and Infrastructure, Professor Mr. Konstantinos Drakos.
The projects were produced in the framework of the recently signed Memorandum of Cooperation between CC & AUEB, which includes a series of joint initiatives to link and strengthen education and research with employment and entrepreneurship development.
The program was attended by 10 groups (43 students in total) attending the course "Creative Advertising & Advertising Message Design", under the guidance of Mr. Andreas Evangelatos, member of staff, Department of Marketing and Communication. The objective of the program was to highlight the work of CC, and, to inform about the rules of competition and the protection of the interests of the consumer.
The event was also attended by the Vice President of CC. Ms. Kelly Benetatou, executives of the Directorate of International Relations & Communication and the Department of Digital Communication and Public Relations of CC, officers of the Career & Public Relations Office at AUEB.
Ι. Λιανός, Κ. Δράκος, A. Ευαγγελάτος με τους φοιτητές που βραβεύτηκαν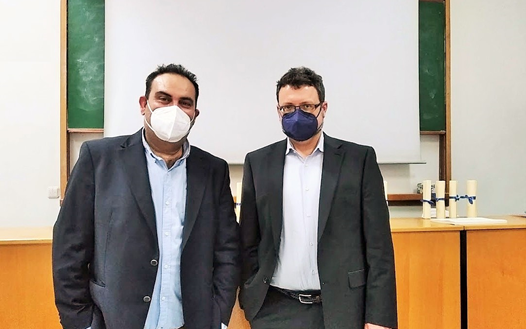 Κ. Δράκος,  Ι. Λιανός
Κ. Δράκος, Α. Ευαγγελάτος, Κ. Μπενετάτου, Ι. Λιανός, Α. Παναγιωτίδου, Ε. Σχοινά, Β. Κούκης