Students from AUEB's Department of Management Science and Technology were awarded the 1st, 2nd and 3rd prize at the Virtual & Live Student Competition JA Start 2020
National Student Entrepreneurship Competition JA Start Up 2020
Dr. IV, MamaBear and Crowdy, the digital business ideas of students from the Department of Management Science and Technology (DMST), Athens University of Economics and Business, were awarded the 1st, 2nd and 3rd prize, at the Virtual & Live Student Competition JA Start 2020, while 8 teams were qualified for the Final, held on Tuesday 26th of May. "JA Start Up" is a European pioneering Junior Achievement Europe innovation and entrepreneurship training program, implemented simultaneously in 300 Universities across Europe, with the participation of 15,000 students.
More precisely, DMST students were distinguished among 68 teams and 370 students from 16 Greek Universities, in the Junior Achievement Start Up 2020, which was organized by the non-profit organization "Junior Achievement Greece, (SEN / JA Greece)". The teams developed their digital Internet of Things (IoT) based ideas in the context of the course "Digital Innovation and Entrepreneurship", supported by Professor Georgios Doukidis, Dr. Stavros Lounis and PhD candidate Stratos Baloutsos.
The teams that received a prize:
The 1st Prize was awarded by the Minister of State and Digital Governance Kyriakos Pierrakakis to the Dr. IV team and its members Vougias Ioannis, Georgoulis Christiana and Faros Antonis.
Dr.IV is an intelligent flexible and automatic management system in health facilities, such as hospitals and clinics, using Internet of Things technology and a mobile application. The vision of Dr. IV is to offer a system that helps the management of understaffed hospital units (mainly nurses), who fight for our health every day, especially during the COVID-19 period, and significantly reduce the complications derived by serum errors.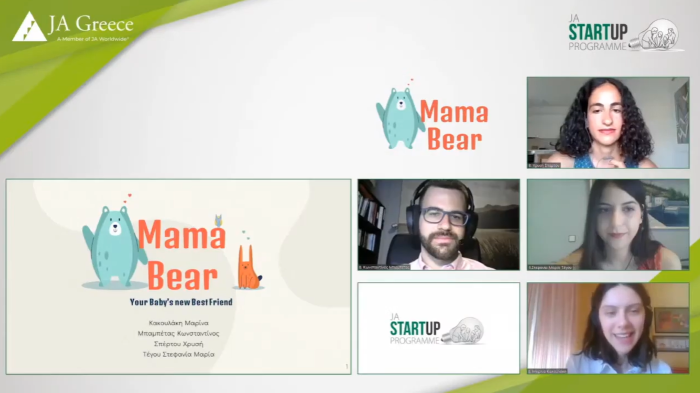 The 2nd Prize was awarded by the Deputy Minister of Education and Religious Affairs Vassilis Digalakis to the MamaBear team and its members Kakoulakis Marina, Babetas Konstantinos, Spertou Chrysi and Tegou Stefania Maria.
MamaBear is a smart IoT teddy bear, designed as a tool for working parents, but also for organizations such as clinics and early childhood centers. It is a companion for the baby, while it helps in its mental health and emotional development. Through IoT technology, it allows parents and those in charge, to record messages through its application and reproduces them when the baby cries or laughs. At the same time, it offers real-time information about its condition.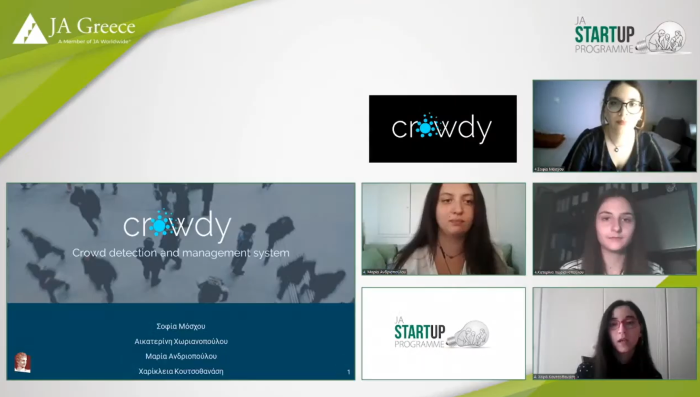 The 3rd Prize was awarded by the US Ambassador in Greece, Geoffrey Pyatt, to the Crowdy team and its members Andriopoulou Maria, Koutsothanasis Hariklia, Moschou Sofia and Chorianopoulou Aikaterini.
The application is a complete smart solution for detecting and avoiding overcrowding, especially important due to the pandemic, based on IoT technologies. It consists of a mobile app for citizens and a subscription platform for organizations/ businesses. Moreover, the user will be able to see the number of people on buses, in public services and banks, in restaurants and retail stores. In addition, he will be informed of the average service time in order to manage his time, avoiding overcrowding.
Finally, UniverCity application, with Georgios Markou, Nikolaos Moatsos and Nikolaos-Angelos Spyrellis won the Online Voting Challenge.
It is a complete student guide to extracurricular life and includes a set of personalized student suggestions for the Student, in 6 categories (Conferences, Catering,  Discounts, Volunteering, Sports, Travel).
Dr. IV, the winning team, will represent our country in the European Finals JA Europe Enterprise Challenge 2020, which will be held for the first time in Greece.