PhD Candidate Ms M. Bornea, Prof. V. Vasilios and Prof. I. Kotidis (Dept. of Informatics, AUEB) with Prof. A. Deligiannakis (Technical University of Crete) were awarded the Best Student Paper Award in the 25th ICDE 2009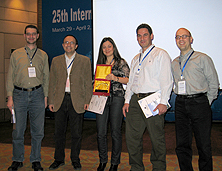 PhD Candidate Ms Mihaela Ancuta Bornea, Prof. Vassalos Vasilios (AUEB) and
Prof. Kotidis Ioannis (AUEB) with Prof. Deligiannakis Antonios
(Technical University of Crete) were awarded the Best Student Paper Award for their article entitled "Double Index Nested-loop Reactive Join for Result Rate Optimization" at the 25th International Conference on Data
Engineering (ICDE 2009), that took place in Shanghai (China) on March 29 - April 2, 2009.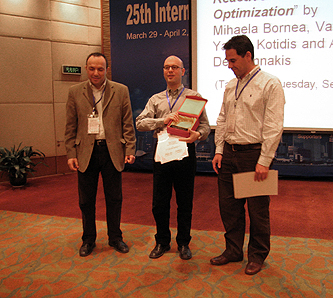 Data Engineering deals with the use of engineering techniques and methodologies in the design, development and assessment of information systems for different computing platforms and application environments. The 25th International
Conference on Data Engineering will continue its tradition of being a premier forum for presentation of research results and advanced data-intensive applications and discussion of issues on data and knowledge engineering. The mission of the conference is
to share research solutions to problems of today's information society and to identify new issues and directions for future research and development work.
For more information, please visit: http://i.cs.hku.hk/icde2009/