Pantelis Koutroumpis, Research Fellow at AUEB's Dept. of Management Science and Technology received the Best Paper Award at the annual conference Competition & Regulation in Network Industries (Nov. 25, 2011)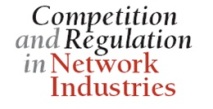 Pantelis Koutroumpis, Research Fellow at AUEB's Department of Management Science and Technology
received the Best Paper Award at the annual conference Competition & Regulation in Network Industries that took place in Brussels on the 25th November 2011.
The paper 'Competition Enhancing Regulation and Diffusion of Innovation: The case of broadband networks' co-authored with Harald Gruber, delves into the parameters that affected global broadband diffusion during the last decade. Its contribution is primarily aimed towards identifying an optimal regulatory framework and competitive environment for Next Generation Networks (NGNs). The suggested interventions are particularly interesting in shaping the Broadband Digital Agenda for Europe on a regional and national level. Through the application of this framework, quick NGN adoption can be achieved, deployment costs are reduced, a level playing field is established for content and access providers and investment risks dwindle.
Pantelis Koutroumpis is currently working at the Wireless Research Center with Prof. Giaglis, Vice-Rector of Economic
Affairs and Director of the ISTLab Wireless Research Center.