AI@AUEB talk: "An Introduction to Deep Learning for Natural Language Processing -- from word embeddings to ChatGPT", by Ion Androutsopoulos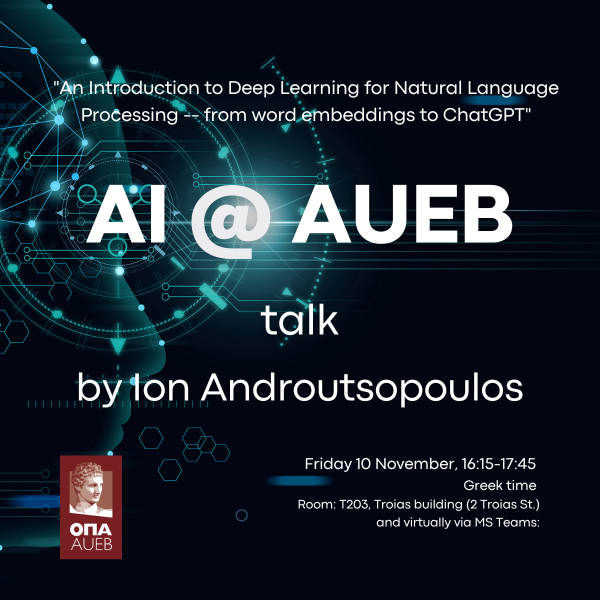 ΑΙ@AUEB talk, Friday 10 November, 16:15-17:45 (Greek time)
Speaker: Ion Androutsopoulos (https://www.aueb.gr/users/ion/)
Title: "An Introduction to Deep Learning for Natural Language Processing -- from word embeddings to ChatGPT"
Room: T203, Troias building (2 Troias St.) and virtually via MS Teams:
https://teams.microsoft.com/l/meetup-join/19%3aOiYUJgd5vTDTv9p0FnXvTdZ9TTZxIBRHwZzEpD02P-Y1%40thread.tacv2/1698736417858?context=%7b%22Tid%22%3a%22ad5ba4a2-7857-4ea1-895e-b3d5207a174f%22%2c%22Oid%22%3a%225b49c8b5-6801-409c-a8f8-6e18215b3a08%22%7d
Abstract:
Like most areas of Artificial Intelligence (AI), Natural Language Processing (NLP) has been transformed by Deep Learning and has produced impressive results, most recently with systems based on large language models, like ChatGPT. This talk will provide a gentle introduction to key concepts of modern NLP, including word embeddings, Recurrent Neural Networks (RNNs), Transformers, encoder-decoder models. It will also provide examples of applications, such as information extraction from documents, filtering toxic posts on social media, legal judgment prediction, machine translation, image captioning, and code generation.
This will be a slightly extended English version of a talk given in Greek to the HIAS Universal AI summer school (Greek video available at https://www.youtube.com/@hellenic-ias/streams -- day 3, 4:05:00 to 5:12:00).
To subscribe to the mailing list of AI@AUEB, send a message (with any subject and body) to ai_meetings-subscribe@lists.aueb.gr. If you have an AUEB account and want to view all scheduled AI @ AUEB Lecture Series in your MS Teams calendar, subscribe to the "AI@AUEB" group on MS Teams (code: r2dtl45). Team members can also send text messages (chat) to other team members.
If you are an AI researcher or practitioner, please consider becoming a member of the Hellenic Artificial Intelligence Society (EETN, http://www.eetn.gr/en/).