Tarnanidou Christina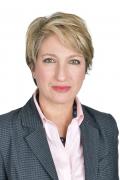 Department of Business Administration
Office Address: 80, Patision Str., 1st Floor
Phone: +30 210 - 8203 439
Christina Ι. Tarnanidou is an Associate Professor in Commercial and Financial Law at the Department of Business Administration of Athens University of Economics and Business. She lectures in Commercial Law, Capital Markets Law and Corporate Governance as well as in Energy Financial Law both at undergraduate and postgraduate level.  
She completed her graduate and postgraduate studies at the Aristotle University of Thessaloniki and postgraduate level courses at the University of Essex (UK). She received a PhD from the School of Law of the Aristotle University of Thessaloniki on the "Doctrine of Derivatives Contracts of the Financial Sector".  
She is a 23-year senior quality legal expert in commercial and financial law and consulted intensively mainly for financial institutions (Greek and foreign), stock exchanges and other financial market infrastructures (Hellenic Energy Exchange - HENEX, Hellenic Exchange Clearing House - EnExClear) as well as for other enterprises of the financial sector. She worked as a legal counsel since 1999 in the financial markets sector (Athens Derivatives Exchange - ADEX, Athens Derivatives Exchange Clearing House - ADECH, Hellenic Exchanges - HELEX, Athens Exchange - ATHEX, Athens Exchange Central Securities Depository - ATHEXCSD, Athens Exchange Clearing House - ATHEXClear) and participated as a representative of the Stock Exchange and the Capital Markets in various European associations (e.g., European Central Securities Depositories Association – ECSDA).
She has also strong expertise in the regulatory affairs field of the financial sector and cooperates with domestic and EU Policy makers and Supervisory Authorities in Greece and abroad (e.g., European Securities & Markets Authority - ESMA).
She chaired the Greek Legislative Committee for the compliance of Greek Law to the Provisions of the Regulation (EU) 909/2014 of the European Parliament and of the Council of 23 July 2014 on improving securities settlement in the European Union and on central securities depositories and amending Directives 98/26/EC and 2014/65/EU and Regulation (EU) No 236/2012 " (Min.Fin. Γ.Δ.Ο.Π. 0000744 ΕΞ2017/ΧΠ 805/09.05.2017). She has also cooperated as an external legal expert with the Ministry of Finance (2019-2020).
She has concluded a series of regulatory and compliance works related to EU law, mainly on Markets in Financial Instruments Directive - MiFIDII, Central Securities Depository Regulation - CSDR, European Markets Infrastructure Regulation - EMIR, Shareholders Rights Directive - SRD, Securities Financing Transactions Regulation - SFTR, Short Selling Regulation – SSR, Financial Collateral Directive - FCD, and Settlement Finality Directive – SFD.  She drafted as a legal expert/counsel all regulations of the ATHEXGROUP companies (ATHEX, ATHEXClear, ATHEXCSD) as well as of the ENEXGROUP (HENEX, EnexClear) on energy markets. She has also concluded the work of the regulations of the Energy Market in Cyprus.
She cooperated with experts of the EU system (European Commission, European Central Bank, Target2-Securities) as an academic member in working groups and committees and has a long interaction and cooperation with multi-level institutional bodies and professionals of the financial sector.
She is a representative of Athens University of Economics and Business in the European Supervisory Authorities – ESAs University Partnership Programme.  
She has published a number of articles in Greek and international peer reviewed journals (Financial Regulation International, Journal of International Banking and Financial Law, Company and Business Law (Greece)) and has developed a rich literary work, having seven monographs on commercial law, corporate law, financial law and energy law. She participates intensively in various national and international conferences, including indicatively the Energy Trading Regulations & Compliance Annual Summits (since 2017), the Conference on Interdisciplinary Legal Studies (AICILS 2017 Boston), Harvard University, the Martin Conference Center, the International Financial Law Conferences, the Greek Annual Conferences of Commercial law, the Annual Conference of the Hellenic Capital Markets Commission, the Annual Conference on Intellectual Property and International Law, ICTBEL & ACIPIL (London), Financial Attaches Meetings - EU Council, the International Conference of the Centre for Money, Banking and Institutions (CMBI) of the University of Surrey and the Center of Research in the Contemporary Finance of the Fordham University, USA, Hanken School of Economics (Helsinki), the Conference of the Union of Judges of the Greek Council of State, the Greek Association of Administrative Judges and the Hellenic Court of Audit and others.
* Το Οικονομικό Πανεπιστήμιο Αθηνών δεν φέρει καμία ευθύνη όσον αφορά στην ακρίβεια των στοιχείων του συνοπτικού και του πλήρους βιογραφικού των μελών του προσωπικού, όπως αυτά αναρτώνται στην ιστοσελίδα του. Η ευθύνη ανήκει αποκλειστικά και μόνο στους συντάκτες των βιογραφικών σημειωμάτων.