Social Responsibility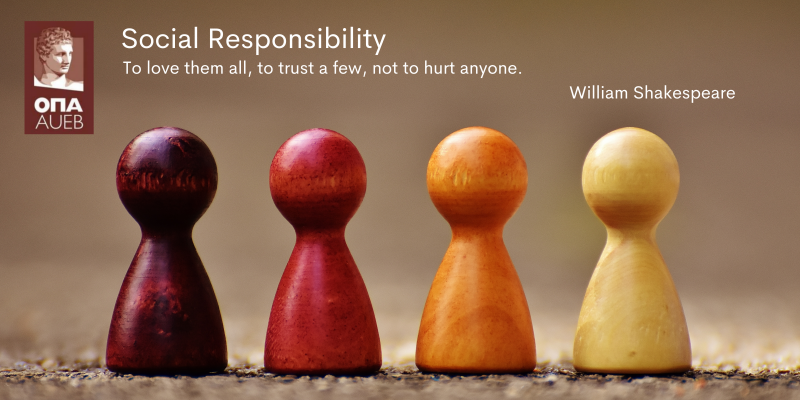 Historically, the Athens University of Economics and Business consistently serves a set of timeless values, the updating of which is imperative to reflect and incorporate the new needs and perspectives.
In this context, AUEB redefines and mainly deepens the content of serving the value of social offering and the alleviation of inequalities. Through a series of practices and actions, it seeks to contribute to social well-being by protecting environmental resources and awakening social sensitivity.
In the past the University has developed important social activities and assisted various social groups. Relying mainly on the voluntary contribution of its staff and students, it assists and meets great social needs. For example, voluntary blood donation is organised systematically, aid is offered to students through the social tutoring centre, and it recently launched a relief program for the fire-affected members of its community and the schools in North Evia.
Continuing this important tradition, it organizes in a more systematic way actions of social contribution. This was already implemented as a pilot during the relief given to the schools of North Evia, where the aid provided by AUEB -based on its own resources and its community- was complimented by companies which act as its suppliers (in the form of sponsorships and materials).
For the next two years AUEB has designed an action plan that aims to contribute positively to social development and prosperity.
AUEB's Corporate Social Responsibility (CSR) Indices
The following table presents the University's strategic Social Responsibility (CSR) indices, as monitored during 2017-18. In the Covid era we have not yet recorded all the actions, however, the objective of the next two years 2021-22 is given.
| Corporate Social Responsibility Indices (CSR) | 2017 | 2018 | 2021-2022 |
| --- | --- | --- | --- |
| Number of actions of "AUEB Volunteers" | 18 | 45 | 47 |
| Number of "AUEB Volunteers"  | 1658 | 3661 | 3700 |
| Number of courses offered in the scientific field "Social Responsibility" | 25 | 25 | 26 |
|  Number of CSR publications | 42 | 44 | 46 |
| Number of research projects | 18 | 22 | 24 |
| Number of collaborations with CSR bodies | 6 | 10 | 12 |
| Number of conferences / seminars / events | 16 | 7 | 12 |