Vakola Maria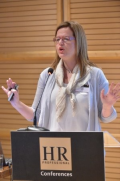 Department of Marketing and Communication
Office Address: Antoniadou Wing, 5th Floor
Phone: +30 210 - 8203 177
Maria Vakola (PhD) is an organisational psychologist and she is currently working as an Associate Professor at the Athens University of Economics and Business, Greece.  Maria has also worked as a lecturer and visiting staff in several Universities across Europe. She was the Head of Human Resources Laboratory of the University and the AUEB representative to the Hellenic Foundation for Research and Innovation. Maria is currently deputy director of the department of Marketing and Communications and of the Postgraduate Program of  Human Resources Management. Maria has published in academic journals such as the Journal of Applied Psychology, Human Relations, Journal of Occupational Health Psychology etc, and has presented her work in academic conferences.
Maria is the co-founder of an international forum for psychology of organizational change (IFPOC) aimed at bringing together researchers on this field and she has actively participated and led research projects funded by European and local sources for twenty years.  She has published five books; she is an associate editor of the Journal of Applied Behavioural Sciences and she is the editor of the HR Case Study Series aiming at bridging the gap between academia and industry.
She teaches human resources management, organisational behaviour and change management in an undergraduate, postgraduate and executive level and she has received awards for teaching excellence and research. Maria has delivered many executive courses for companies and for 20 years she is involved in consulting projects regarding change and human resources management. Maria has received an award for innovation in human resources management from the Hellenic Management Association for co-founding a non-profit organization, job-pairs.gr, which empowers graduates through mentoring.  You can contact her at mvakola@aueb.gr
* Το Οικονομικό Πανεπιστήμιο Αθηνών δεν φέρει καμία ευθύνη όσον αφορά στην ακρίβεια των στοιχείων του συνοπτικού και του πλήρους βιογραφικού των μελών του προσωπικού, όπως αυτά αναρτώνται στην ιστοσελίδα του. Η ευθύνη ανήκει αποκλειστικά και μόνο στους συντάκτες των βιογραφικών σημειωμάτων.