Pagratis Spyridon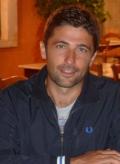 Office Address: Extension of Main Building, 2nd Floor
Phone: +30 210 - 8203 477
Spyros Pagratis is Assistant Professor of Finance at the Athens University of Economics and Business (AUEB), Department of Economics. Prior to coming to AUEB, he was a Member of Staff at the Bank of England, where he worked in Financial Stability, Systemic Risk Assessment Division, where he specialized on the UK Banking System and acted as Special Secretary of the Bank of England Property Forum. He completed his Ph.D thesis at the London School of Economics, under the supervision of Hyun Song Shin. His research interests are in the areas of corporate finance of the banking firm, banking regulation and financial stability.
Representative publications
"Bank capital buffers in a dynamic model," (with J. Mankart & A. Michaelides), 2018, Journal of Financial Management, forthcoming.
"System stress testing of bank liquidity risk," (with N. Topaloglou & M. Tsionas), 2017, Journal of International Money and Finance, 73: 22-44.
"Ratings hardwiring and asset prices," 2013, Economica, 80: 621-649 (lead article).
"Modelling bank senior unsecured ratings: A reasoned structured approach to bank credit assessment," (with M. Stringa), 2009, International Journal of Central Banking, 5(2): 1-40 (lead article).
"Stock liquidity requirements and the insurance aspect of the lender of last resort," 2007, International Journal of Central Banking, 2(2): 65-98.
* Το Οικονομικό Πανεπιστήμιο Αθηνών δεν φέρει καμία ευθύνη όσον αφορά στην ακρίβεια των στοιχείων του συνοπτικού και του πλήρους βιογραφικού των μελών του προσωπικού, όπως αυτά αναρτώνται στην ιστοσελίδα του. Η ευθύνη ανήκει αποκλειστικά και μόνο στους συντάκτες των βιογραφικών σημειωμάτων.