KAPOUTSIS ILIAS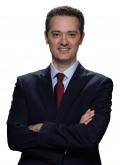 Department of Business Administration
Office Address: Extension of Main Building, 2nd Floor
Phone: +30 210 - 8203 384
Ilias Kapoutsis is Associate Professor of Management at the Athens University of Economics and Business (AUEB). He holds a Ph.D. in Management and a bachelor's degree in Business Administration from the AUEB and an MSc in Business Information Technology from the University of Manchester.  
His current research interests focus on the motivations behind political behaviour at work, the logic that governs these motivations, and the checks and balances that guarantee success. His research has been published in top refereed journals, including the Journal of Management, Journal of Organizational Behavior, Journal of Vocational Behavior, Human Relations, International Journal of Human Resource Management, Organizational Dynamics, Negotiation Journal, and Journal of Management Education. He has co-authored 17 articles, 3 book chapters/monographs, and 32 conference papers, overall. He is Associate Editor of Frontiers in Psychology: Organizational Psychology and Guest Editor of a special issue in the European Management Journal. Since 2019, he has organized a students' negotiation competition - Athens Negotiation Tournament.
He has served as the lead researcher on numerous research projects. The development of the Greek National Employment Strategy for 2021-2027 funded by the Greek Ministry of Labour, Social Insurance and Social Solidarity, is the most recent. Additionally, he took part in other research projects. A recent example is Strategic Planning Practices in the United Arab Emirates Public Sector (UAE National Research Fund).
He has also spent many years consulting numerous businesses, including: ΙΚΕΑ, National Bank of Greece, Attica Bank, Hellenic Petroleum, Active, Amgen, Eurolife FFH, GAP-Eviol, Pharmaserve-Lilly, Bayer: Crop Science, RedBull, Aluminum of Greece, Ministry of National Defence.
* Το Οικονομικό Πανεπιστήμιο Αθηνών δεν φέρει καμία ευθύνη όσον αφορά στην ακρίβεια των στοιχείων του συνοπτικού και του πλήρους βιογραφικού των μελών του προσωπικού, όπως αυτά αναρτώνται στην ιστοσελίδα του. Η ευθύνη ανήκει αποκλειστικά και μόνο στους συντάκτες των βιογραφικών σημειωμάτων.