Androutsopoulos Ion (Ioannis)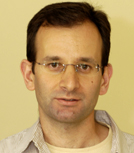 Department of Informatics
Office Address: Antoniadou Wing, 5th Floor
Phone: +30 210 - 8203 122
Ion Androutsopoulos is Associate Professor in the Department of Informatics of the Athens University of Economics and Business, where he works since 2002. Before joining AUEB he was a researcher at the Greek National Research Centre for Scientific Research "Demokritos" (1998-2002) and Macquarie University, Sydney (1996-97). He studied at the University of Edinburgh (MSc and PhD in Artificial Intelligence, 1991-96) and the National Technical University of Athens (Electrical Engineering, 1986-91).
His expertise is in Artificial Intelligence, and especially Natural Language Processing. His current research interests include:
question answering for databases, ontologies, document collections, and the Web, especially biomedical question answering,
natural language generation from databases and ontologies, especially Semantic Web ontologies,
text classification, including filtering spam and abusive content,
information extraction and opinion mining, including legal text analytics and sentiment analysis
natural language processing tools for Greek, for example parsers and named-entity recognizers,
machine learning in natural language processing, especially deep learning,
natural language processing in digital curation.

His personal Web pages can be found at: http://www.aueb.gr/users/ion/index.html
* Το Οικονομικό Πανεπιστήμιο Αθηνών δεν φέρει καμία ευθύνη όσον αφορά στην ακρίβεια των στοιχείων του συνοπτικού και του πλήρους βιογραφικού των μελών του προσωπικού, όπως αυτά αναρτώνται στην ιστοσελίδα του. Η ευθύνη ανήκει αποκλειστικά και μόνο στους συντάκτες των βιογραφικών σημειωμάτων.